Written by Kristian Ferenc Sylthe, guest writer.
It is a grateful task to review Truls Mørk`s incredible recording of Shostakovich's two cello concertos. Not necessarily because I play cello myself, but because the I have a special relationship to the composer and performer.
When one reads about Shostakovich it is often about his background, education and history. He was born in 1906 in Saint Petersburg and died in 1975 in Moscow. Here I wish to place the composer into the neoclassical period. Shostakovich lived in other words during the First and Second World Wars (and he also lived under social realism), and it is this that characterizes his musical identity. The music is so incredibly strong, it gives us the sense of presence and his timbres gives us a rare experience. The two cello concertos were written for the cellist Rostropovich, perhaps his only good friend. Rostropovich learned the work within four days, which came with a big world premiere of Concerto No. 1.
The world famous artist Truls Mørk is known for his unrecognizable warm and romantic timbre. This becomes very obvious in cello concerto No. 2, largo . His personal interpretation differs from the other recordings I know, making the music more personal. Mørk's breathing and empathy gives us a sense of war, and the sharp and intense parts performed with panache. The music gives us thus a completely different understanding of tonaliy.
When talking about Shostakovich`s two cello concertos, it is natural to refer to Prokofiev's cello concertante, a work steeped in musical atonality. The atonal period is a period I describe as music that you can`t sing, which Shostakivich also steeped. Shostakovich knew Prokofiev himself, and was thinking that he used an orchestration that was far from as good as his own.
Cello Concerto No. 1 was written in 1959, and Truls Mørk`s interpretation tells us a historic moment under the Soviets. It is obvious that this work is perhaps the most demanding work written for cello, but Mørk plays it incredibly easy, and it's very obvious to hear that his interaction and communication ability is incredibly great. His intense play, the demanding runs are performed with great technical brilliance.
Concerto 2 was written in 1966 and tells us a complete different story. His musical tools are no longer characterized by large, long and technical runs, but here we can hear a more fragile Shostakovich. Since this work was written so late in his life, it becomes one of his latest compositions. This work tells us that there is "light at the tunnel" and the use of his tonality emerges more "correct".
Where there is talk of war, then it's usually also talk about death and bereavement. Hunger and corruption. The sound of sirens sound already in 1st movement, concerto No.1, giving goosebumps while listening to Mørk`s recording. He recreates the music, and his ability to convey a story is perhaps the most unique feature in Mørk's play.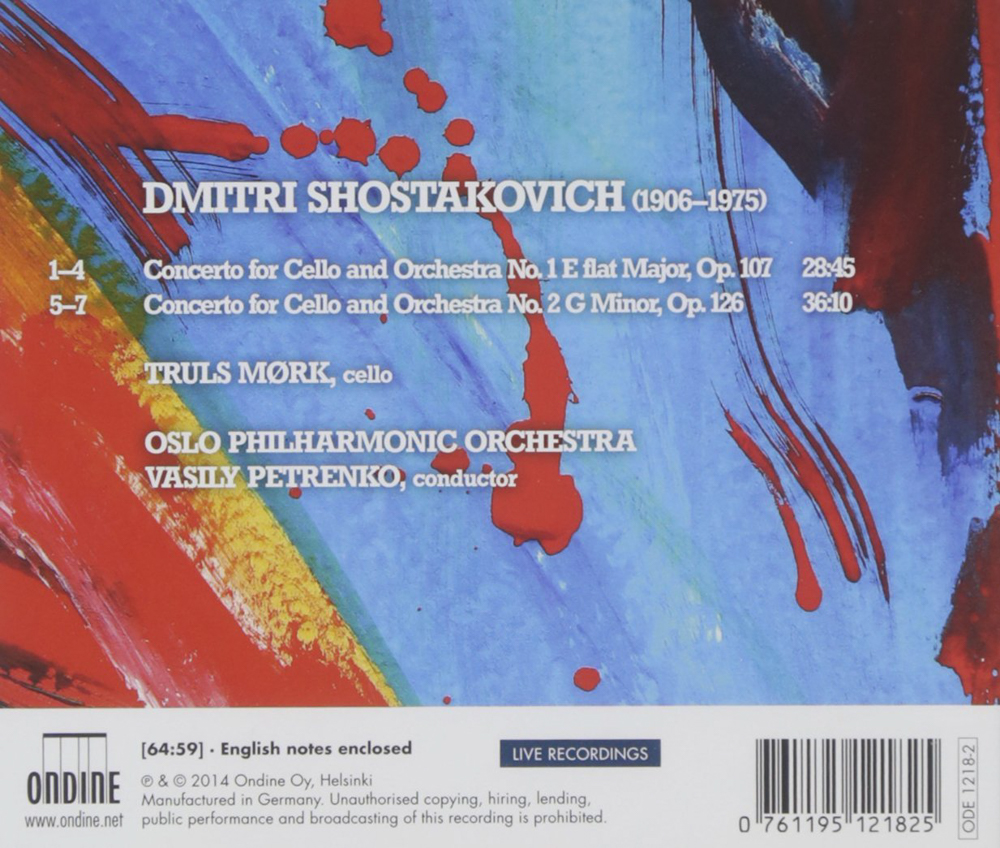 Truls Mørk`s recording of the two concerts are absolutely one of my favorites, and I believe that everyone should have this CD. Truls Mørk's recording of Dvorak, Elgar, Haydn and Schumann will be interpreted correctly to the style, just the romantic interpretation. Here he becomes more unorthodox, playing with equal intensity, and he uses vibrato to create an ambience that is against the neoclassical rule.
Written by: Kristian Ferenc Sylthe, student
Shostakovich Cello Concertos released on Ondine